August 9, 2021
The Department of Health (DOH) on Monday said the Philippines has gone up to high-risk classification as a rise in coronavirus disease 2019 (Covid-19) cases has been observed with a positive two-week growth rate (TWGR) at 47 percent.
In an online media briefing, DOH Undersecretary Maria Rosario Vergeire reported an increase of 2,197 cases per day in the week of Aug. 1 to 7 at 8,695 cases per day compared to the previous week of July 25 to July 31 at 6,498 cases per day.
Meantime, the national average daily attack rate is now at high risk which increased to 7.20 cases for every 100,000 population.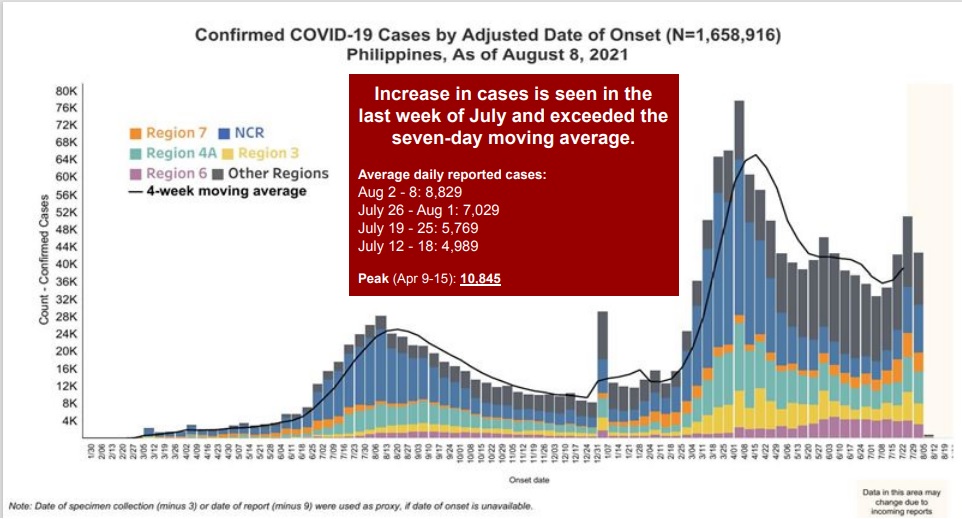 "We would like to flag the National Capital Region (NCR), CAR (Cordillera Administrative Region), Region 1, Region 2, Region 4A, Region 7 and Region 10 with high-risk classification based on its moderate risk TWGR and high-risk average daily attack rate (ADAR)," Vergeire said.
Apart from these high-risk areas, Region 3, Region 12 and Region 8, and Region 5 showed positive TWGR and Region 6 manifested high-risk ADAR.
The NCR maintained a positive TWGR and a high-risk ADAR and is currently at high risk classification.
Its ADAR now is at 12.70 per 100,000 population.
"All of the areas in the NCR have positive TWGR. Pateros, Malabon, Navotas are at critical risk having high risk TWGR and ADAR," Vergeire said.
Twelve areas in the NCR have high-risk daily attack rates. These are the cities of Makati, San Juan, Pasay, Las Piñas, Muntinlupa, Parañaque, Valenzuela, Pasig, Mandaluyong, Taguig, Manila and Quezon City.
"While overall healthcare utilization and intensive care unit utilization rates for NCR is less than 50 percent, we noted that the ICU utilization for districts 2, 3 and 4 have reached already 50 to 70 percent capacity. All 17 areas in the NCR have local Delta variant cases as of Aug. 5," Vergeire said.
As for deaths due to Covid-19, the fatality rate is plateauing on a national level which indicates a possible increase in the coming weeks. An evident rise in deaths was observed in Central Luzon and Central Visayas. (PNA)